Before I started this blog about my adventures with my border collies, there were a succession of other dogs in my life. In celebration of "Adopt a Senior Pet Month" I'd like to pay tribute to one of dogs I adopted when he was older. He was a big old yellow Labrador Retriever named Tyson. For anyone who wonders if this fits the "Monday Mischief" theme, read on to discover that even though he was older he was still capable of plenty of mischief!
Tyson, the Traveling Labrador
Tyson and I found each other through a circuitous route. Everyone who knows me knows how much I love dogs, so I often get emails forwarded from friends and acquaintances about dogs who need help finding a home.
One such email was about an approximately 7-8 year old yellow lab which had been forwarded numerous times before it arrived in my inbox. At the time my husband and I had a 12 year old female lab/husky mix named, Jessie, who we thought might enjoy the company of another older, mellow dog. We had also adopted Jessie as a "Senior Dog" about 3 years earlier when she was about 9 years old. Here is Tyson's story as it was told to us..... (All photos are mine unless otherwise credited)
Florida - Where Tyson's Story began
Tyson's Story
They call me Tyson. I was probably born in Florida like Marley of "Marley and Me" - heck since we're both Labrador retrievers, we might even be relatives! The person who took me home was an airline flight attendant so I guess it was my destiny to travel.
I lived in an apartment for about the first year of my life. I was a happy, energetic puppy with a love of life! I loved to run. I loved to tear things up. I loved to chew. I loved to go for walks. I loved to go for rides in the car. I loved to grab things and run with them.
I grew really fast and soon I learned how to snatch tasty things from the table or counter when no one was looking!
I meant to be a good dog, but if I was busy I'd forget to come when I was called. I heard people say "No, No, Bad Dog" a lot.
Sometimes my human was gone overnight when she went to work. The one thing that didn't make me happy was to be left alone! I thought everyone would want to know that I wasn't happy so I barked.
Then I heard someone say, "That dog must go!" Great, I thought, I love to go! Where are we going? My travels were about to begin.


Cool, Caribbean Island Dog
The next thing I knew they loaded me into a crate and then put me on a plane. I didn't like being in that crate at all and since I thought everyone would want to know, I barked and howled the whole time.
After what seemed like forever they unloaded me from my crate. I heard someone say that we were in a place called Honduras!
Then I was introduced to a man. He seemed like a nice man and I liked him, but I like everyone!
The man and I got into a boat. It was my first trip on a boat! It was a little scary at first but I loved the scents in the air and the breeze flapping my ears. We went out to an island in the Caribbean off the coast of Honduras.
The island was a wonderful place full of wonderful scents and room to roam. The man was a caretaker for the owner of the island and we lived in a little house together. We had the whole island to ourselves most of the time.
The man and I were together all day long so I was never alone. There were lots of great things to sniff, an ocean to swim in and I got to do whatever I wanted all day long. I took naps in the warm sun whenever I felt like it and slept on the bed with him at night.
About six years went by and one day I heard the man tell someone that the island had been sold and we needed to move. The man started packing up all of our things. We got in a boat and traveled to another island. We went to visit a lady named Sue. She had 10 dogs! The man left and I stayed with Sue and her 10 dogs. I missed the man but I was having a great time playing with all of the other dogs! I had no idea that Sue was famous!
One day, after a few months, Sue asked me if I wanted to go for a ride. Great, I thought, I love to go! Where are we going? I didn't know it, but the man I lived with wasn't able to provide me with a home anymore and Sue had offered to help find me a new home.
We got in the car and went for a ride. Then they put me in one of those darn crates again and loaded me onto another plane!
I don't like being in a crate and I wasn't happy! It was a loooong plane ride and I knew that everyone would want to know that I wasn't happy so I howled and barked the whole way!
Why is my friend Sue famous? The photo below is a clue:
No, my friend is not a T-Rex dinosaur! Here is more information about my friend, Sue Hendrickson, and her amazing discovery:
We went to visit Sue's sister and I met her sister's dogs. They were fun to play with.
After I'd been there about 3 weeks and I was just getting used to living there, Sue asked me if I wanted to go for a ride. Great, I thought, I love to go! Where are we going?
I jumped into the car and after a short ride we parked in front of a house. There was another big yellow dog, a lady and a man standing in front of house when we arrived.
Tyson and Jessie
The dog was a female and they called her Jessie. I heard someone say that she was half husky and half Labrador retriever, but that didn't matter to me. She was almost as big as me and didn't seem to mind when I sauntered past her to go into the house after we met.
I didn't mean to be rude but I needed to get in out of the cold!
The man and the lady seemed nice, too, and I liked them.
I like everybody!
Tyson the Traveling Labrador Retriever soon after we adopted him
I checked out the house and the next thing I knew Sue said goodbye and left in the car.
I had found my forever home! I grew a heavier coat more suited to the cooler climate, but I'm still the cool dog from the Caribbean!
Now my travels are rides in the car, trips to the beach, swimming, hiking and camping in the beautiful Pacific Northwest.
Tyson Swimming
Some of my other favorite things are chewy treats and greeting everyone as they enter the house. I love everyone! I show people how happy I am to see them by bringing them underwear or socks from the laundry hamper when they come in the front door!
The Rest of the Tale from Vicki
Tyson is just one of many wonderful older pets who for various reasons find themselves needing a new home.
He was the most gentle, sweet dog you could ever meet. He loved everyone! He made us laugh and enriched our life. He was trained on basic commands, housebroken and didn't have any bad habits
(except for snatching things from the laundry hamper, some occasional counter surfing and sleeping on furniture)
.
Instead of a puppy, consider contacting a rescue organization or visiting a local shelter to see if there is an older dog who is still full of fun, has love to give and is waiting for a forever home with YOU!
If anyone recognizes Tyson because of his unusual travels and can tell us more details about his life, please contact me or leave a comment!
More of Tyson's Adventures
I was blessed to have Tyson's companionship in my life for almost 6 years. He taught me much about enjoying life, seeing everyone as a friend, not worrying and starting each day with joy. There are many wonderful memories of him that make me laugh and smile.
Tyson never failed to be a friendly and welcoming host to any human or canine who entered our home. He was the gentle giant who rolled over on his back to allow tiny puppies to crawl all over him and chew on his ears. There were exuberant young canine guests and a succession of other dogs with whom he shared his home. He never took offense, but simply ignored several cranky "no-fun police" border collies who reprimanded him for his silly antics with barks, nips and body slams.
Every morning he awoke anticipating his beloved morning walk. The walks got shorter as he got older, but were still eagerly enjoyed. After his walks he ran in the front door and threw himself down on the living room rug for his morning roll.
He loved to try to entice people or other dogs to play by running in great circles in what I called his "silly scoot", It was a ridiculous looking posture with his tail tucked between his legs and his butt down and head turned behind him to see if anyone was chasing him.
Remembering Tyson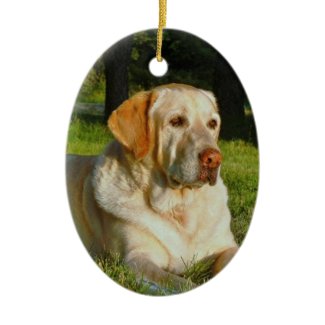 Pet Memory Ornament - Make Your Own
by
VickiSims
Check out other Pet memorial Ornaments at
zazzle.com
I also feel like I'm honoring the memory of Tyson and every other dog I've ever loved when I help another dog who needs a home to find one.