Everything listed on this page is a product that we have actually purchased ourselves and use. No one paid us for these recommendations or gave us free products in exchange for a review. The views offered are honest opinons, but in the interest of full disclosure, if you choose to purchase anything through these affiliate links, we may receive a small commission. Hey, we gotta pay for all of these border collie adventures somehow!
Bathing and Dog Grooming
We don't like baths and we don't like to be groomed, but Tim likes to roll in deer poop and other nasty stuff, so he gets bathed fairly often. Hank seldom needs a bath. We don't like it, but with our long fur and undercoat, if we aren't brushed regularly we get mats. Our skin can be kind of sensitive, so our person is particular about the products she uses.
Tim the Border Collie getting a bath
Walking and Hiking Gear
We love going for walks and hikes, so there are some essential items that we need to have. These are the ones we've found to be affordable with handy features. Martingale collars, also known as "no slip" collars are particularly important for foster and rescued dogs that often are frightened and try to run. The Earth-rated dog poop dispensers are inexpensive compact and include a velcro loop for attaching to a leash or belt and also have a hook to hang a used bag. Gulpy water dispensers are handy for taking along water and a basin to drink from all in one unit.
Tim the Border Collie Taking a Drink on a Hike
Dog Toys
Tim playing with his favorite toy
We are hard on toys. We love to dismember any toy with a squeaker and can usually efficiently do so in less than 5 minutes. Tim's current favorite toy is a pink JW Pet Good Cuz that we refer to as his "red man" because the first one he had was red. We've purchased several of these over the years and have them in several colors. His current favorite is pink. Although the squeaker was destroyed within a few days (longer than usual) he hasn't been able to destroy the tough rubber toy and enjoys throwing it around for himself. Hank likes to fetch so he loves his bumper and glow in the dark ball. Of course, they both enjoy a Kong filled with treats.
Gifts for People Who Love Border Collies
After living both with and without a doggie door, if at all possible, I will never live without a dog door again. As long as there a place where a dog door can be installed where it connects to area outdoors that is securely fenced, it is definitely the way to go. No more worrying about if my dog can "hold it" if I'm away longer than expected and no more wandering around outside at night in all kinds of weather with a flashlight wearing a bathrobe and slippers!
I have used two different brands of dog doors and recommend the Ideal Ruff-Weather Pet Door, especially if you live in an area with either extremely cold or extremely hot temperatures. We have installed this model in both doors and walls. For wall installations it may be helpful to also purchase a wall kit to span the depth of the wall. At one home, we didn't have a wall or regular door where we could install a dog door, so we got one that could be used with a sliding glass door. Unless you are certain you will never have any large dogs, either your own or as guests, I would recommend buying and installing a large or extra large size door. Better to have one that is too large than too small. We have fostered and dog sat dogs of all sizes and have trained all of them to use the dog door within hours of arriving at our home. In addition to luring them with treats, it probably helps that they watch our dogs go through and follow their lead.
I am still old school and enjoy having a paper calendar to hang on the wall by my desk and of course I like to have one with photos of border collies! If I can find one, I prefer to buy calendars sold by border collie rescues to help support their organizations:
If I can't find a calendar offered by a rescue, I get one wherever I can.
I also love to make personalized items with photos of my own dogs, like these I've created on
Zazzle
: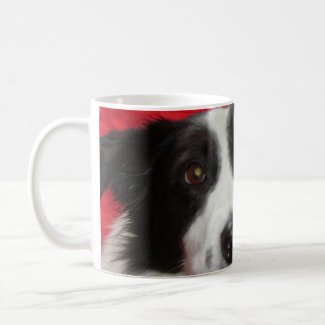 Tim the Border Collie Classic White Coffee Mug
by
VickiSims
Check out Border collie Mugs online at
zazzle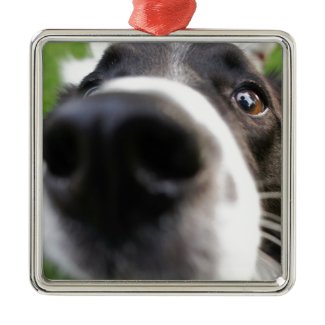 Border Collie Dog Nose Christmas Ornament
by
VickiSims
Browse more
Dog face Ornaments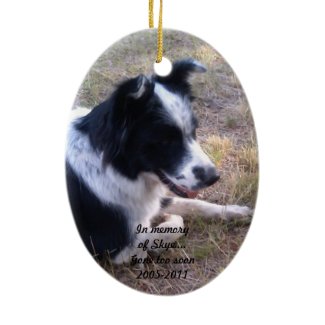 Paw Prints in the Sand Pet Memorial Double-Sided Oval Ceramic Christmas Ornament
by
VickiSims
Check out more Dog Ornaments at
Zazzle
Recommended Reading
I also enjoy good books about dogs including stories about dogs, dog training tips, and guides to dog-friendly hikes and adventures. Here are some of my personal favorites:
More Border Collie Gift Ideas